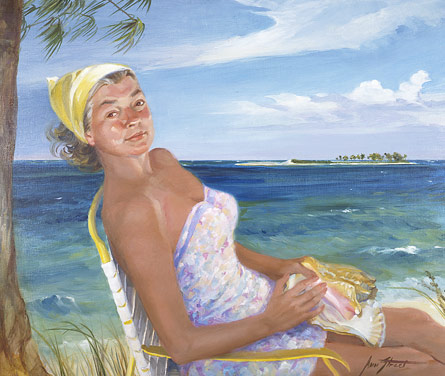 Above, Lee and Mac's mother, Louise, fondly remembered
for her passion for island life.
An oil painting 31" x 39" by Ann Street of Nashville, TN.
Linton's Cottages was featured in Vero Beach Magazine.
Click here to read the article.
Linton's Beach & Harbour Cottages – Our History
Captain Stephen Cliff and his wife, Sheila, built Linton's Cottages in the late 1940s shortly after they moved from England at the end of World War II. Stephen was a highly decorated officer in the RAF and one of Winston Churchill's private pilots. The couple sought respite on the tiny island of Green Turtle Cay following the war. Seagrape, the first cottage, was built on the crest of the dune overlooking Long Bay Beach and the Atlantic Ocean to secure the land granted to them by the Crown. Palmetto cottage was built next – on the backside of the same dune – as a "winter" home because it is protected from the winds that can come with winter. The Harbour cottage was built last on Black Sound, as a refuge from hurricanes.
Captain Stephen Cliff died in the late '50s and his widow sold the property to Donald and Louise Linton in 1960. The Lintons and their three young children lived in Nashville, Tennessee, and the cottages on Green Turtle Cay became their summer home for the next 20 years.
Leontine (Lee) Linton LaPointe and her brother, MacRae F. Linton, first visited Green Turtle as small children. They learned to love the island's relaxed lifestyle with their parents. Since inheriting the place in 1981, they have enjoyed sharing it with their own children who are the third generation of Lintons/LaPointes to love these cottages. Through the years, the cottages have always been offered as vacation rentals. In fact, some of our regular renters are now bringing their third generation to Linton's Cottages. The charm and beauty of these cottages are legendary.
---
Today, Linton's Cottages has a full-time caretaker, Fanny Mclntosh, who tends to the needs of the guests staying at the cottages. The resident groundskeeper, Odny Bellot, keeps the buildings and grounds in immaculate condition and assists Fanny with the guests. Lee manages the bookings and visits the island on a regular basis to supervise maintenance and repairs, while also catching up with returning guests who have become good friends of Linton's Cottages.
Lee and her brother are dedicated to maintaining the historic architectural integrity of the cottages while acting as faithful stewards of their 22 acres of undeveloped land. Although improvements and updates are made regularly, the cottages retain their quiet charm familiar and appreciated by so many returning guests. Simple living comes naturally here.