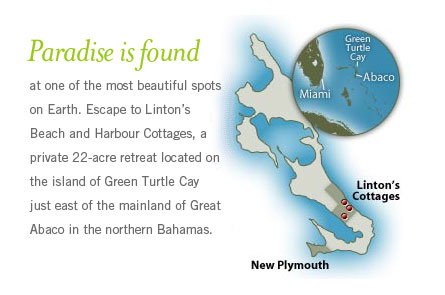 Flights In/Out of Treasure Cay (TCB)
---
Aztec Airways | From Ft. Lauderdale Exec Airport, FL | www.flyaztec.com
---
Island Wings | From Ft. Lauderdale Exec Airport, FL | www.flymegaair.com
---
Flights In/Out of Marsh Harbour (MHH):
Silver Airways (United) | From Ft. Lauderdale, FL | www.silverairways.com
---
American | From Miami, FL | www.aa.com
---
Delta | From Atlanta, GA | www.Delta.com
---
Sky Bahamas | From Nassau or Ft. Lauderdale, FL | www.skybahamas.com
---
Bahamasair | From Nassau or West Palm Beach, FL | www.bahamasair.com
---
Western Air | From Nassau | www.westernairbahamas.com
---
Island Wings | From Ft. Lauderdale Exec Airport, FL | www.flymegaair.com
Travel To Green Turtle Cay:
The closest and most convenient airport for travel to Green Turtle Cay is the Treasure Cay airport (TCB) on Great Abaco Island. From the airport to the ferry dock is a 5-minute taxi ride where the Green Turtle Ferry will take you right to Linton's dock on Black Sound.
Treasure Cay is accessible by Aztec Airways and Mega Air (Island Wings) with flights to and from Ft. Lauderdale, and Bahamasair with flights to and from Nassau.
Marsh Harbour Airport (MHH) is also on the island of Abaco. It is a 35-minute taxi ride to the Green Turtle Cay ferry dock. MHH is served by Silver Air to and from several south Florida cites, American to and from Miami, Sky Bahamas to and from Nassau and Ft. Lauderdale, Western Air to and from Nassau, Bahamasair to and from Nassau and West Palm Beach, and Delta to and from Atlanta.
Please note we do our very best to provide up-to-date air service information, but air carriers often change service to the remote out islands of the Bahamas. This information is valid as of January 1, 2023.
Experienced travellers know that delays are common when flying throughout the Caribbean, and air travel to the out islands of the Bahamas is no exception. Occasional tropical thunderstorms, high winds and air traffic congestion can delay flights and frustrate travellers with tight connections. So, unless you book connecting though flights to Marsh Harbour on American (via Miami on American Eagle) or United (via Ft. Lauderdale on Silver Air) to and from your home city, we recommend buying travel insurance to protect you should a travel delay cause you to miss your connection.
Our staff will meet your ferry at our dock on Black Sound Harbour when you arrive, help you with your luggage, and drive you by golf cart to your cottage. They will also book your return ferry for you, and come collect you and your luggage to make your departure from our dock when the ferry arrives for your journey home.
---
Getting Around During Your Stay
Although it is only a 15-minute walk on the island's main (paved) road from Linton's Cottages to New Plymouth, many guests rent a golf cart for trips into town or to the many beaches – or to visit the resorts on the north end of the island. We are happy to reserve a golf cart for you, and arrange to have it waiting for you at our dock when you arrive.
By default (unless otherwise notified) Fanny will arrange for a golf cart from Seaside Cart Rentals to be waiting for you dockside. We highly recommend Seaside Cart Rentals, but there are other options. Pricing is competitive, so please just let us know if you have other preferences.
We also maintain a fleet of new "fat tire" cruiser bikes for our guests to use, without charge, for more leisurely expeditions.
Boats are available for rent from Donny's Boat Rental, Sunset Marine and Reef Rentals (see boat rentals info). It's about a 5-minute boat ride from our dock to the town dock in New Plymouth. We strongly recommend that you reserve your boat well before your arrival because they can be in short supply during the busier months of the year.