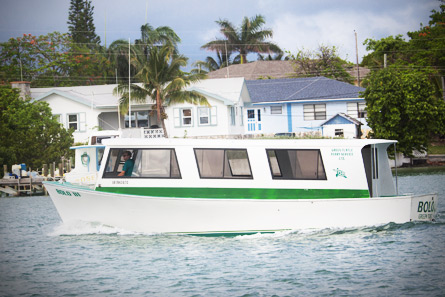 If you're an experienced traveller in the tropics, you'll know to bring extra sunglasses, hats, sunscreen and a bottle of aloe.
If you aren't, be sure to bring extra sunglasses, hats, sunscreen and a bottle of aloe!
What To Bring With You To Green Turtle Cay:
Cold fronts occasionally interrupt the normally balmy winter weather in the northern Bahamas, so we recommend packing at least one cool-weather outfit, including a warm fleece or sweater and a windbreaker or rain jacket. Even during the summer, one light jacket is a good idea. Plan on a few rainstorms, too, although few last more than an hour or two. Other than that, the fashion on Green Turtle Cay is "island casual", which means shorts and t-shirts, sandals and sunglasses during the day, and something a bit dressier at night. No ties. No high heels. Not even a sport's jacket is needed to be in acceptable fashion.
If you are even mildly interested in snorkeling, we recommend bringing your own mask, snorkel and flippers – which will fit better and cost about the same as the fees to rent them when you're here. If you plan to do some beachcombing, bring a pair of old sneakers or aqua-shoes to protect your feet from the rough outcroppings along some of the shores. Boaters, of course, should bring non-slip boat shoes.
Most day-to-day necessities are available for sale at the grocery stores in New Plymouth, but you won't find a wide selection of brands. Bringing your own preferred tea or coffee is recommended. Cottage kitchens are equipped with coffee bean grinders. A few necessities you will NOT find for sale in the Bahamas include refills for prescription drugs, replacement contact lenses, prescription eyeglasses, cell phone chargers and high-tech batteries for cameras and electronics.
Because fresh beef, pork and lamb are rarely available in local grocery stores, some visitors bring coolers packed with their favorite frozen cuts – along with any special dietary foods or medical items. However, fruits and vegetables are not allowed to be brought into the Bahamas, so please leave them at home.
The weight limit on a checked bag is 50 lbs., and Silver Air charges $25 for the first checked bag, and $35 for a second, each way. Carry-on bags are free, with a weight limit of 20 lbs. We recommend attaching a destination tag along with your identification tag to all checked luggage, just in case it is misplaced by the airline.
---
Your luggage tag should read:
Destination:


Linton's Cottages
Green Turtle Cay
Abaco, Bahamas
Tel: 242-365-4003
Helpful Tips & Information While Visiting Us:
Communications:
The Bahamas Telecommunications Corporation (Batelco) has automatic roaming agreements with most of the cellular carriers in the United States and Canada, and the cell reception on Green Turtle Cay is excellent. We strongly recommend you contact your carrier prior to your visit to ask about special calling and data plans for overseas' travel that they may offer at reduced prices. Because most smart phones can be used as hot spots for a paired laptop computers (usually for an additional fee from the cell provider), full access to the Internet and your email accounts is both convenient and economical from almost anywhere on the island.
Most of the island's residents communicate with VHF marine radios, hailing each another on channel 16 and switching to a neighboring channel to talk. Each Linton's cottage is equipped with a VHF radio to use for making restaurant reservations or for rare emergencies. Some guests bring their own hand-held marine radios to use when they're out and about. Linton's Cottages stands by on channel 71.
---
Money Matters:
The Bahamian dollar trades at par with the U.S. dollar, and U.S. currency is accepted everywhere. Nobody accepts personal checks (except Linton's Cottages for guest services and tips) but most establishments accept VISA, MasterCard and American Express credit cards. Some guides accept credit cards, but very reluctantly – and they might add a 5% surcharge to cover the processing fee levied by the credit card company. The Green Turtle Ferry and taxis on Abaco only accept cash, and we always bring plenty of small bills to tip the many people who help us load bags in and out of taxis and ferry boats.
The First Caribbean Bank on Parliament Street is open from 10AM to 2PM on Thursday. While they won't cash a check drawn on an American bank, they will give modest cash advances on bank credit and debit cards. There is no ATM on Green Turtle Cay, but there's a Royal Bank and ATM in Treasure Cay and several banks and ATMs in Marsh Harbour.
---
Customs & Immigration:
Post 9/11 security protocols require that Americans carry their passport with them every time they leave the country. Travelling to the Bahamas is no exception. In fact, the airlines will not issue you a boarding pass until you present a valid passport. Don't forget to bring your passport and double-check to make certain that it will not expire sooner than six month after you return from outside the country.
Clearing Bahamas Immigration and Customs is a breeze because they go out of their way to welcome visitors to their country. Waiting in the immigration line at Treasure Cay airport is just about the most delightful experience on earth, especially if you've just fled traffic jams and snowstorms back home. It's also the perfect beginning to a relaxing holiday at Linton's Cottages on Green Turtle Cay.
Returning to the states is a different matter, and American citizens should budget at least an hour to clear customs and immigration when they land back in the U.S. – and twice that if you're a foreign national or you return during a busy travel period.
---
Medical Services:
The Government of the Bahamas maintains a medical clinic in New Plymouth that is staffed with a full-time nurse and a doctor who visits twice a week. The nearest hospitals are in Nassau and Ft. Lauderdale, although a new hospital is currently under construction in Marsh Harbour.
If you have a medical condition that might require hospitalization, we recommend obtaining an inexpensive medical evacuation insurance policy, such as Global Rescue or MedJet. A two-week family policy costs less than $300, and they will evacuate anyone in your family who needs emergency medical attention in a private jet. Individual policies are even less.
Divers will be familiar with Divers Alert Network, or DAN, a non-profit association of recreational scuba divers with an excellent medical, dive accident, and evacuation insurance policies available to its members.
Finally, we urge all travellers to check with their medical insurance providers to determine how they handle reimbursing emergency and non-emergency medical expenses you may incur while travelling outside of the US or Canada. Medicare will not reimburse medical expenses incurred outside of the US, but many supplemental "MediGap" insurance policies will.