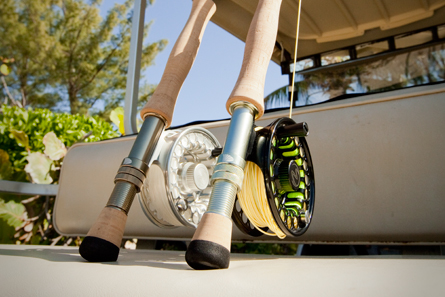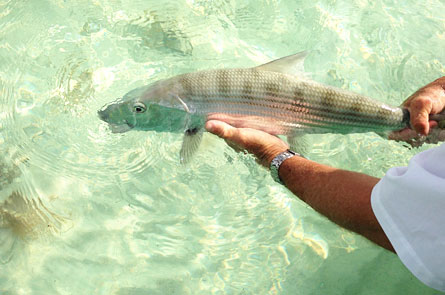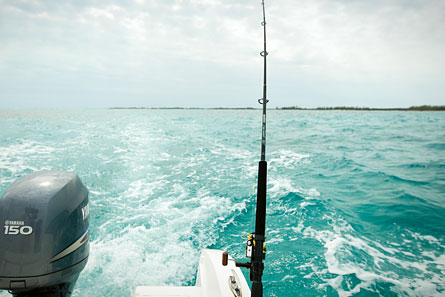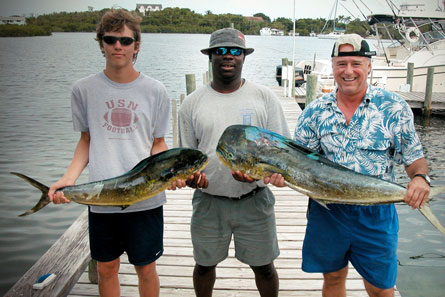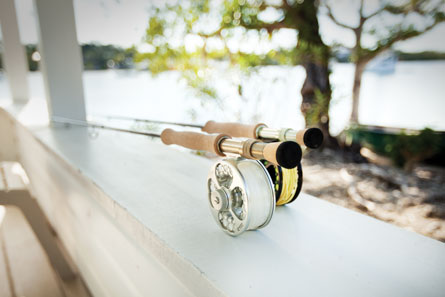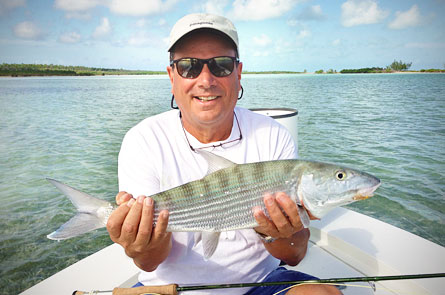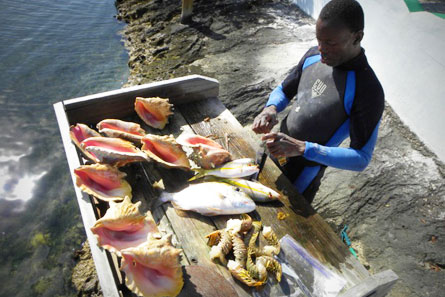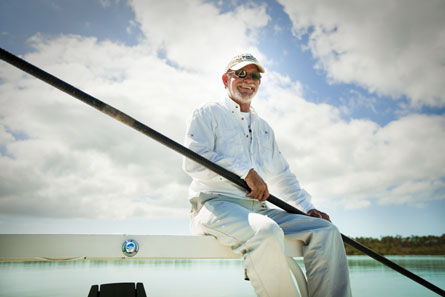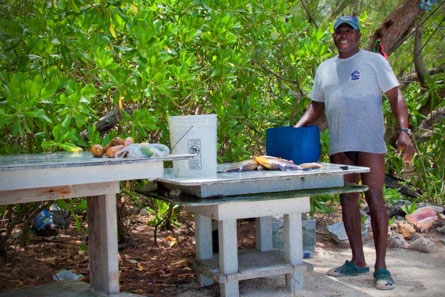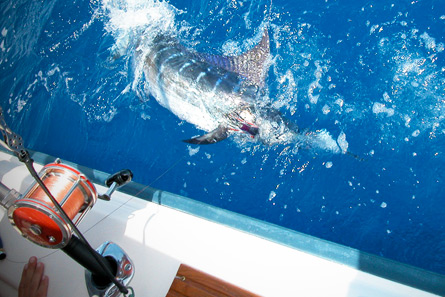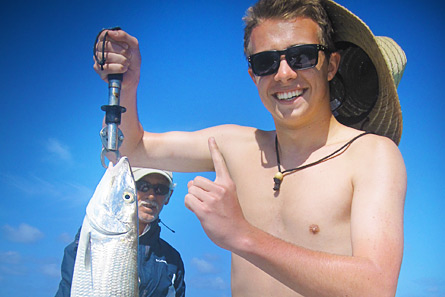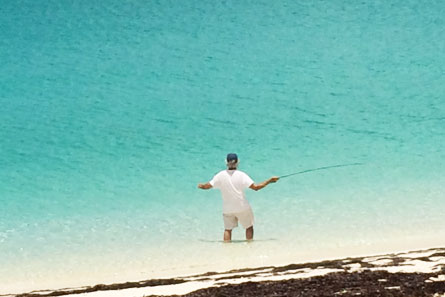 Offshore Fishing:
The bluewater fishing beyond the barrier reef off Green Turtle Cay rivals any in the Caribbean. Depending on the time of year, a good day's catch can include wahoo, mahi, tuna and a variety of billfish. Experienced anglers will have good success trolling ballyhoo or artifical baits along the 1,100-foot drop-off that parallels the outermost reef and runs north of Green Turtle Cay for five miles or more. Sunset Marine at the outlet of Black Sound has the best selection of 22-foot and larger boats, all of which are equipped with 4-color depth finders and marine radios. They also rent tackle and have a good selection of frozen ballyhoo, squid and other bait for sale.
For larger groups, we recommend a full- or half-day charter with Capt. Rick Sawyer in his comfortable Tiara or Eddie Bodie in his spacious Grady-White.
For More Information, or to book offshore fishing, contact:
Capt. Rick Sawyer | www.abacoflyfish.com
info@abacoflyfish.com | Telephone: 242-365-4261
Eddie Bodie | The-Rock-Fishing-Charters-with-Captain-Eddie-Bodie
Telephone: 242-365-4069 or 242-365-6784.
---
Reef Fishing:
Trolling or jigging the reefs located offshore from Green Turtle, No Name and Manjack (pronounced Mun•jack by the locals) Cays is an exciting way to catch your dinner. We've had excellent luck using 1/4 and 1/2 oz. jigs rigged with Berkeley's Gulp Shrimp. The reefs abound with grouper and snapper, and trolling a rigged ballyhoo, Yo-Zuri minnow or saltwater Rapala will usually get their attention. Just make sure to rig up with a wire leader to prevent bite-offs when the occasional barracuda grabs your bait!
For those without a boat, we recommend a full- or half-day with any of these experienced fishing guides:
Eddie Bodie | The-Rock-Fishing-Charters-with-Captain-Eddie-Bodie
Telephone: 242-365-4069 or 242-365-6784.
You can spend a delightful day of fishing and picnicking with Eddie Bodie, who offers a full day of reef fishing, with a shore lunch featuring the fish you caught that morning.
---
Lincoln Jones | http://www.go-abacos.com/lincoln/index.html
Telephone: 242-365-4223
Lincoln Jones offers fantastically fun "reef parties" which include a morning of fishing (all bait and tackle provided) and snorkeling, followed by an elaborate beach party cook-out featuring your freshly caught fish, lobster (in season) and a sip of rum punch (or three). While not recommended for true hardcore anglers, Lincoln's expeditions are very popular, so make your reservations as soon as you are able.
---
Sherllin Russell | Sherllinbahamas@gmail.com
Telephone: 242-475-2811
Sherllin Russell at the Other Shore Club (across from Linton's dock on Black Sound) offers personally guided fishing, diving and snorkeling trips – including diving for lobsters, beach picnics and general exploring – all in your rental boat (his motto is "Your boat, my time"). If you'd like, he'll even cook your catch back at your cottage – or out on a secluded beach. You can find him making fresh conch salad at Pineapple's most evenings (be sure to ask for a lesson on how to clean a conch).
A Fisherman's Paradise!
Visiting anglers can choose between hiring experienced local guides and charter boats, renting their own boat (Sunset Marine also sells frozen bait and offers a selection of fishing tackle for rent), or fishing any of Green Turtle Cay's three bonefish flats that are easily accessible by golf cart or on foot.
---
Inshore Fishing:
Some of the region's most exciting fishing is trolling ballyhoo or shallow-running Yo-Zuri minnow baits along the edges of the many bonefish flats and beaches off Green Turtle Cay and the nearby cays. Big barracuda and the occasional Houndfish (a very large needlefish native to the Bahamas) often lurk in the deeper water hoping to ambush a bonefish or snapper exiting the flats. This kind of fishing is ideal whenever an onshore wind or high waves make venturing into the ocean too rough to be enjoyable. It is also a wonderful thing to do on your own if you are an avid angler, with a rental boat from one of the three rental boat companies on Green Turtle Cay.
---
Flats Fishing:
Green Turtle Cay and the surrounding islands offer an array of expansive flats that are home to some of the largest bonefish in the world. Unlike most destinations that consider a "big" bonefish to be anything over five or six pounds, bonefish in the Abacos range from six to ten pounds, with fish larger than that caught several times a year. But, bonefish don't get that big by being stupid, so it will take plenty of perfect presentations to hook up – but when you do, hold on!
DIY anglers can access three very productive hard-bottom flats without a boat. The largest and most productive is the Town Flat, located south of New Plymouth on the Sea of Abaco. It's easy to reach by taking the narrow two-track that turns off the main road at the baseball field south of town down to the dead end on Gilliam Bay. Then, walk down the beach until you see a path cutting through the pine forest that leads to the beach on the other side of the point (or walk all the way around the point – watching for cruising fish the whole way). The Town Flat runs for almost a mile up the western shore of the island. It fishes best on either side of a high tide.
The next best flat is at the north end of Green Turtle Cay, starting at the bottom of Coco Bay and running up to the very top of the island. You can ride a bike or drive to Coco Bay by taking the main road north from the cottages and turning right on the dirt road just before you come to Brendal's Dive Shop and the Green Turtle Club. By law, all beaches in the Bahamas are open to the public, so you can access the Coco Bay beach where the road runs along the shore. Bonefish work the Coco Bay flats on every tide, and some of the better water is farther north up the beach, which fishes best on a rising tide.
A strong wind from the west can make Coco Bay and the Town Flat difficult to fish, so we always head back down to Gilliam Bay and walk the beach out to the end of the point to fish Sand Dollar Flat – a vast expanse of hard sand that slopes gradually eastward towards Pelican Cay – a beautiful private island about a mile directly to the east of Gilliam Bay. It fishes well on every tide (just wade out to the edge when the tide is low), and the west wind will be at your back making longer casts much easier to execute.
But, the most productive way to fish for bonefish is to hire a guide, and Green Turtle Cay is home to two excellent ones – both named Sawyer.
---
For More Information, or to book flats fishing,
contact on of the two guides below:
---
Ronnie Sawyer is a Green Turtle Cay native with 25 years of experience as a bonefish guide. He's been featured in numerous fishing magazines and was the subject of a half hour show on ESPN2's television series "George Poveromo's World of Saltwater Fishing". He offers both full and half-day charters, and keeps a boat on Great Abaco Island for fishing the well-known Abaco marls.
Telephone: 877-459-9108, 242-357-6667 (cell) or 242-365-4070
www.go-abacos.com/ronnie/about.html
---
Rick Sawyer is an island-born Bahamian who knows the bonefish flats around Green Turtle and neighboring cays like the back of his hand. He is a licensed and IGFA-certified captain and guide with over 25 years experience. He offers full, 3/4 and half day bonefish charters, and we usually opt for the 3/4 day outing because it gives us plenty of time on the water without totally frying in the hot sun.
www.abacoflyfish.com | info@abacoflyfish.com | Telephone: 242-365-4261