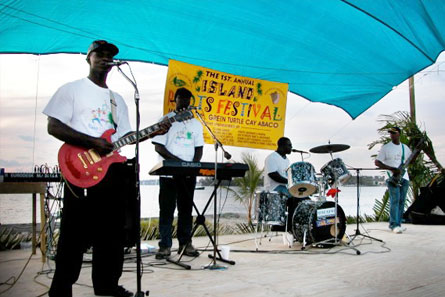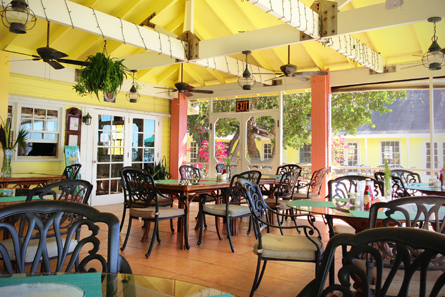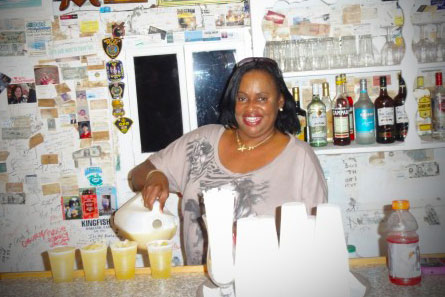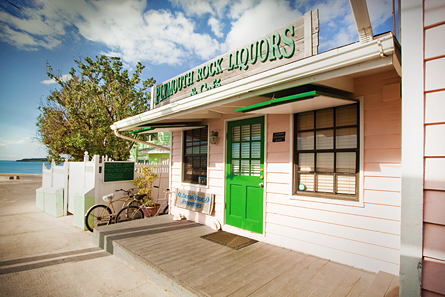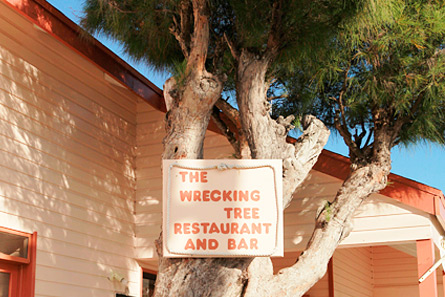 Dining Options During Your Stay
When you arrive, Fanny will show you around the kitchen in the cottage. You can order food and beverages before you arrive by using the "stock kitchen" order form we send with every rental agreement (we charge a 15% fee for this service) – or you can take a quick golf cart ride into New Plymouth to any of the town's three well-stocked grocery stores (Curry's, Sid's and Lowe's)
It's also well worth stopping by the Abaco Seafood Company across from the old jail to buy some frozen rock lobster (called crawfish locally) to cook on the charcoal grill provided with each cottage (and don't forget to buy a bag of charcoal at one of the grocery stores!). Freshly frozen fish are also available at B&M's Seafood down the block behind Miss Emily's Blue Bee Bar – or at Curry's Grocery on the harbour.
A stop at Plymouth Rock Liquor & Cafe, which offers an impressive selection of wine, liquor and Kalik ("The Beer of the Bahamas") beer, is high on our errand list, too. Packaged liquor can also be purchased at the Down Through Bar (on King Street, located where Laura's kitchen used to be) or at Sundowners. And, we never fail to stop at Miss Emily's Blue Bee Bar for a glass of the world-famous Goombay Smash and a delightful chat with Miss Emily's (the inventor of the Goombay Smash) daughter, Violet.
---
Fine Dining on Green Turtle Cay
Two upscale resorts on the north end of the island offer the most elegant dining opportunities, and they are a short golf cart or boat ride away. Please be alerted that both add a 15% gratuity to every food and liquor bill.
The food served in the Green Turtle Club's elegant main dining room is superb (reservations must be made before 5pm), and well worth the cost for a special night out. We particularly enjoy the less formal atmosphere in their screened, harbourside verandah for both lunch and dinner. Just inside is the popular Yacht Club Pub, where you can order a Tipsy Turtle rum punch.
Directly across the White Sound harbour you'll discover the Bluff House's Jolly Roger Bar and Bistro, a nautically themed open-air bar, with lunch and fine dining in the evening on their spacious harbour-side deck or air-conditioned dining room. A short golf cart ride up and over the hill to the Sea of Abaco will bring you to their newly constructed Tranquil Turtle Beach Bar, which is open on weekends.
---
Nightlife Options on the Island
The Bluff House, Green Turtle Club, Lizard's, Pineapple's and Sundowner's (overlooking the Sea of Abaco on the west end of New Plymouth) all offer live music at least one night each week – and it's always starring the Gully Roosters – Abaco's longest-running and most famous native band. Everyone in town will know when and where they're playing, so be sure too ask around.
If you're lucky, Kevin McIntosh, the lead singer of the Gully Roosters and author of their hit song, "Let's Go, Go Abaco", will fire up his electric piano at Pineapple's after the sun goes down – and the poolside party really gets hopping.
Native Food & Dining In New Plymouth
New Plymouth offers a wide selection of locally owned and operated restaurants that serve native dishes like cracked conch (which is a slice of fresh conch that's been pounded into tenderness and deep fried in a light batter), fresh-caught fried or grilled fish, lobster – and that quintessential Bahamian dish: peas and rice. Each restaurant in town is different, and they are all wonderful dining experiences. Most serve beer and wine – and many offer their own special recipes of rum punch. All but one accepts credit cards, and several add a 15% gratuity to your bill – so make sure to ask.
---
Here are a few recommendations for local, native cuisine:
---
McIntosh's is the first restaurant you'll see when coming into New Plymouth from the cottages. They serve breakfast, lunch and dinner, with frequent specials, especially on Friday night. They are also a bakery and serve fresh-baked pies and cakes – plus their own homemade ice cream.
Plymouth Rock, at the end of Parliament Street by the town freight dock, doubles as a liquor store and lunch counter serving breakfast and lunch specials. Saturday always attracts a crowd clamoring for a bowl of their chicken souse. They have a nice selection liquor, wine and Cuban cigars, too. And they sell cold Kalik beer by the bottle – or case.
The Wrecking Tree is located at the corner of Hill and Victoria Street and offers freshly prepared native dishes served inside or on their screen porch overlooking the harbour. Their fresh, made-to-order conch salad is a specialty of the house, and their conch fritters are some of the best on the island. They don't accept credit cards, so make sure to bring cash.
Miss Emily's Blue Bee Bar, just up Victoria Street overlooking the basketball court, is arguably the most famous bar in the Bahamas – made so by the original Goombay Smash, a tasty rum punch invented by Miss Emily back in the 60s. The place is now run by her daughter Violet Smith, who is so friendly and outgoing that you will feel like a seasoned regular after only a few minutes (and sips) of your arrival. A few years ago, Violet and her husband opened a restaurant out back, which has grown quite popular at dinnertime.
Harvey's Island Grill overlooks the harbour on Bay Street, where you can dine inside or out on their pastel-painted, harbourside picnic tables. Open every day except Wednesday for lunch and dinner, they serve a wide assortment of native dishes with daily specials posted on a chalkboard outside the front door. Wine and beer now also available.
Pineapple's is located on the harbour directly across from New Plymouth, and is easily accessed by golf cart on the Brooklyn Road (in front of The Wrecking Tree) or by boat. It's an open-air, poolside bar overlooking the harbor and Sea of Abaco, and may be the most popular nightspot on the island. They serve lunch and dinner, and feature delicious conch fritters, grilled fish and made-to-order conch salad.
Shorty's Take-Away is just off Parliament Street, where they serve great fried chicken at a solitary outdoor picnic table, making the whole scene very sociable and fun.
MoMo's Suga' Shack is located in the heart of New Plymouth in the pink pearl building on Parliament Street. Here you will find Melissa Albury (or MoMo as she's known) and her wonderful display of cakes, cookies, donuts, cupcakes, pastries and bread – as well as pre-packaged sandwiches – all made fresh daily.
Lizard's is right up the road from Linton's Cottages and serves casual lunches and dinners in their poolside bar and grill that overlooks their marina and Black Sound. Be sure to ask which evenings they offer music and poolside dancing.